Dr. Amrutha Gopan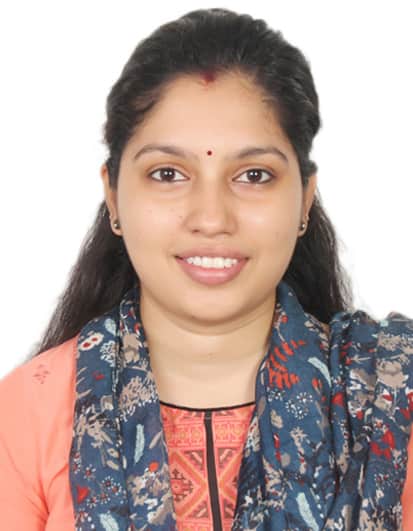 Assistant Professor, PhD
School of Fisheries
Centurion University of Technology and Management (CUTM)
Paralakhemundi- 761211
Odisha, INDIA
Mobile: +91 6238 514615
Email: [email protected]
ACADEMIC QUALIFICATIONS
Ph.D. in Fish Nutrition and Feed Technology(2020) from Central Institute of Fisheries Education(CIFE-ICAR), Mumbai
M.F.Sc.(Master of Fisheries Science) in Fish Nutrition and Feed Technology(2015)from Central Institute of Fisheries Education(CIFE-ICAR), Mumbai
B.F.Sc.(Bachelor of Fisheries Science) from Kerala University of Fisheries and Ocean Studies (KUFOS), Kochi, Kerala
WORK EXPERIENCE
Worked as "QUALITY CONTROLLER" in ATLAS FISH COMPANY W.L.L. Kingdom of Bahrain for one year
RESEARCH PUBLICATIONS
Gopan A, Sahu NP, Varghese T,Sardar P, Maiti MK. Karanj protein isolate prepared from karanj seed cake: Effect on growth, body composition and physiometabolic responses in Labeo rohita fingerlings.Aquacult Nutr. 2019;00:1–15.
 Gopan, A., Ande, M. P., Varghese, T., Sahu, N. P., Lalappan, S., Srivastava, P. P., & Jain, K. K. (2018). Dietary Carotenoid Supplementation Improves Fillet Appearance, Antioxidant Status and Immuneresponses in Striped Catfish (Pangasianodon hypophthalmus) Neverthless the Growth Performance. Turkish Journal of Fisheries and Aquatic Sciences, 18(11), 1303-1313.
 Gopan, A., Sahu, N.P., Varghese, T., Sardar, P., Gupta, S., Gupta, G. and Maiti, M.K., 2019. Preparation of Protein Isolate from Neem Seed: Biochemical Evaluation, Antinutrients and In Vitro Digestibility Study. Animal Nutrition and Feed Technology, 19(2), pp.203-216.
Maiti, M.K., Sahu, N.P., Sardar, P., Shamna, N., Deo, A.D., Gopan, A. and Sahoo, S., 2019. Optimum utilization of Hygrophila spinosa leaf meal in the diet of Labeo rohita (Hamilton, 1822) fingerlings. Aquaculture Reports, 15, p.100213.
AWARDS WON /ACHIEVEMENTS
Secured Hiralal Chaudhuri Gold Medal for Topper in M.F.Sc programme from CIFE,Mumbai
Qualified NET in FISH NUTRITION by ASRB